Last week I posted about the new plans for my diet [not my new
diet plans
, as I am, in fact, not going on a
diet
, in the traditional sense of the word]. Over the past few weeks I've been introducing new, different, and most of all
healthy
food into my [and therefore my roommates'] regular meal routines. In order to find healthy recipe sources [healthier than my
favoriteofalltime
, because despite the tastiness that is every recipe she makes, I do not live on a ranch, do not exercise daily by herding cows, and therefore do not need as many calories as her family consumes on a daily basis].
One of my favorite food blogs is
smitten kitchen
. She's received numerous awards for her food photography, which definitely contributes to the fact that everysingleone of her recipes makes me drool on the spot. On my computer keyboard. I've tried many of her recipes over the last few weeks; some of which I'll share with you in posts to come. Some of them - well, they didn't last long enough to wait for a photo shoot. Sometimes good food [and hungry bellies] don't wait.
My first attempt from her archives was this
leek and swiss chard tart
; aka a quiche with a puff pastry shell. Verdict: tasty. The
problem,
however, with attempting to eat healthier, sometimes a teensybitfancier meals, is that I'm not super familiar with all these fancyschmancy vegetables. I don't know what they look like, smell like, or taste like. So when I went into the grocery store looking for swiss chard, I was on a dangerous mission. I went to Dominicks rather than Jewel because, while it is definitely more expensive, it usually carries the more niche vegetables/greens for use in, well, the diets of those that can afford to spend a little bit more money on fruits and vegetables. I was looking for this: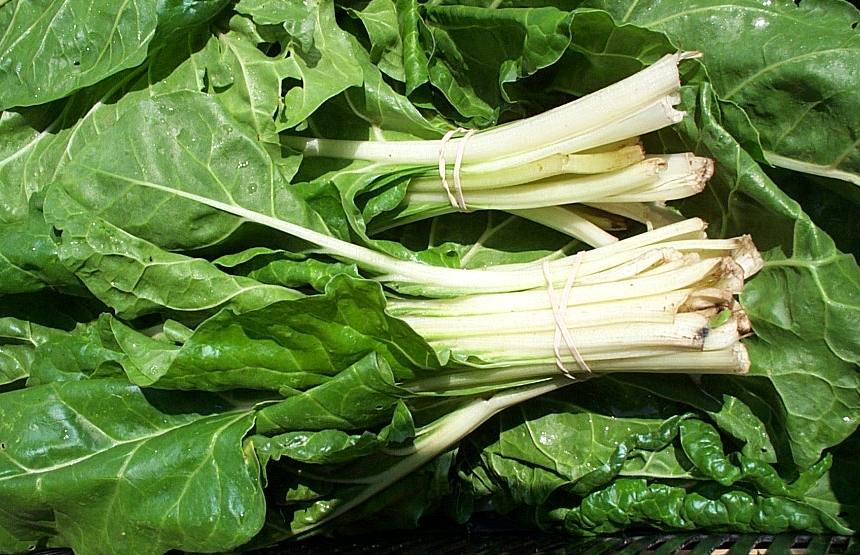 Instead, I accidentally bought this:
Can you see how similar they look? Well, needless to say, I don't usually eat collard greens [and I don't know that I plan to start], so I used spinach in the following recipe. It was a fine replacement [because I've never had chard, I don't know that I'd notice the difference.] Next time, I'll be sure to know exactly what I'm looking for upon arrival at the store. Maybe I'll take a picture of what I need. Like when you get a haircut. But for vegetables.
The recipe is below.
To go with our tart, we had some roasted brussel sprouts [which I didn't like until I had them at the
Purple Pig
], and some healthy, juicy, summer-y melon. Not too shabby of a meal, eh?
What are your favorite food/recipe blogs? I am in always need of suggestions!
Leek and Swiss Chart Tart
Bon Appetit, October 1999
1 sheet frozen puff pastry (half of 17.3-ounce package), thawed (I used a basic tartdough instead)
2 tablespoons (1/4 stick) butter
3 large leeks (white and pale green parts only), coarsely chopped
1 teaspoon dried thyme
1/2 bunch Swiss chard, ribs removed, leaves chopped (about 2 1/2 cups)
1 1/4 cups whipping cream (I used whole milk)
3 large eggs
2 large egg yolks
1 teaspoon salt
1/4 teaspoon ground black pepper
Pinch of ground nutmeg
Roll out pastry on floured work surface to 12-inch square. Transfer to 9-inch-diameter glass pie dish. Trim overhang to 1 inch. Fold under; crimp edges. Cover; chill.
Melt butter in large nonstick skillet over medium-low heat. Add leeks and thyme. Sprinkle with salt and pepper. Cover; cook until leeks are very tender but not brown, stirring often, about 10 minutes. Add chard; saute until wilted, about 2 minutes. Remove from heat; cool.
Position rack in bottom third of oven; preheat to 425°F. Whisk cream and next 5 ingredients in large bowl. Mix in cooled leek mixture. Pour filling into crust.
Bake tart 15 minutes. Reduce heat to 350°F and bake until filling is puffed and just set in center, about 15 minutes longer (this took my oven about 10 minutes longer). Transfer to rack; cool 10 minutes.